Completion Certificate by Meghmani Finechem Pvt. Ltd
Completion Certificate by Meghmani Finechem Pvt. Ltd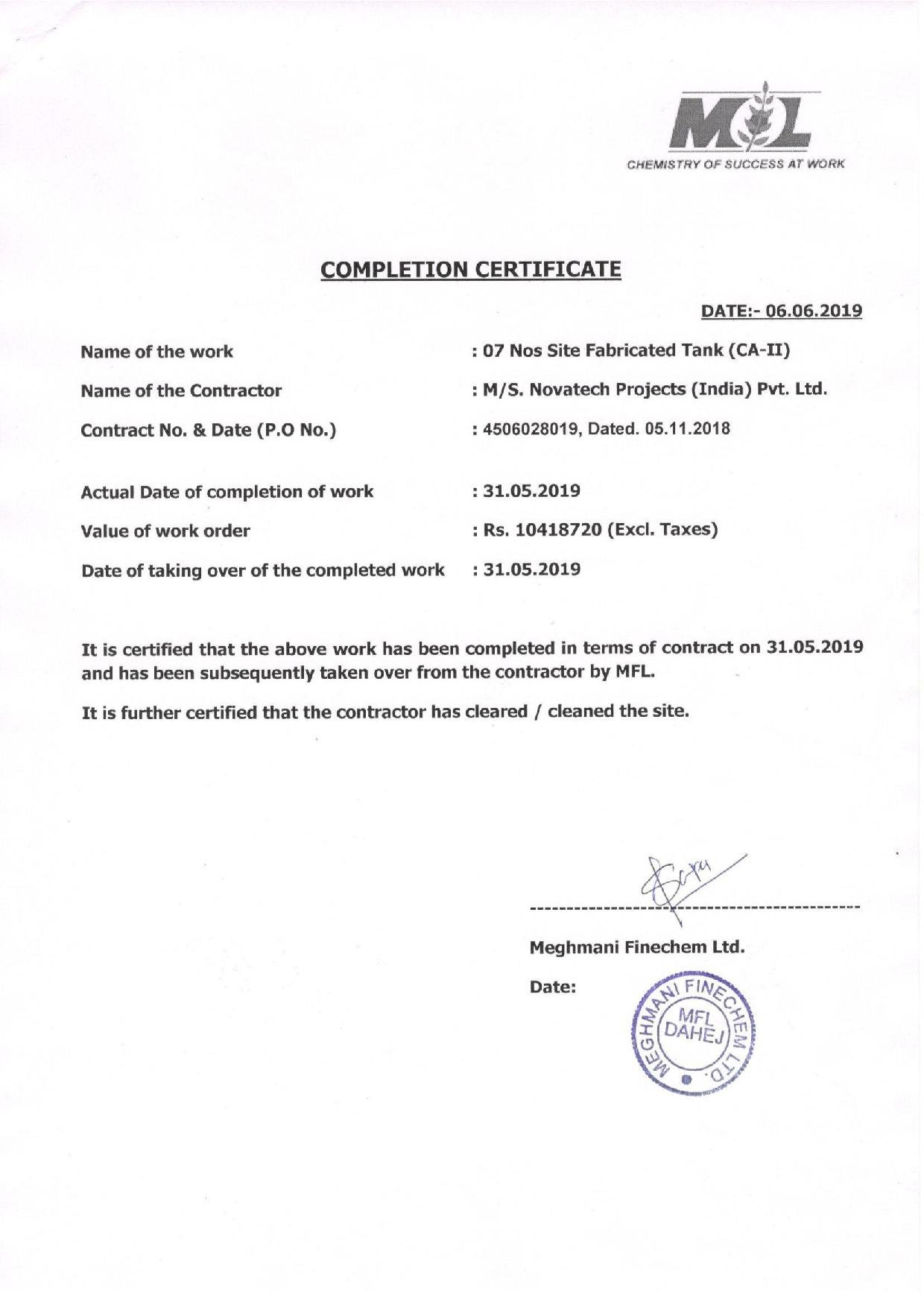 Completion Certificate by Thyssenkrupp (India) Pvt. Ltd

CHEMICAL
Chemical /Fertilizers
Asian Paints ( I ) Limited
Arofine Chemicals Ltd.
CIBA Ckd Bio-Chem Limited
Hikal ( I ) Limited
I.V.P.India Ltd.,
Kansai Nerolac Paints ( I ) Limited
Otsuka Chemical India Ltd.
Savita Chemicals Limited
V.V.F. India Limited
VA Tech Wabag Ltd.,
Gujarat Narmada Fertilizer Chemical Ltd.,
Shubhal Industries Pvt.Ltd.,
Sunshine Oleochem Pvt.Ltd.,
Himadri Chemical Industries Ltd,
Polygenta Technologies Ltd., - Nashik
Matix Fertilisers & Chemicals Ltd.
Arkema Chemicals India Pvt.Ltd.
Croda India Company Private Limited.
Dystar India Pvt.Ltd.
Deepak Phenolics
Deepak Fertilizers & Petrochemicals Corporation Ltd.
Oil Derivatives
Lubrizol India Pvt. Ltd.
Pharma / Food /Water Treatment
Nicholas Piramal India Limited
RPG Life Science Limited
Nilsan Nishotech Systems Pvt Ltd
EPC Contractors
China Kunlun Contracting & Engineering Corporation
Lodge Cottrell Ind. Pvt.Ltd. on A/c of K.C.Cottrell – Korea
Larsen & Toubro Limited. - Vadodara
Larsen & Toubro Limited – West Bengal
Simplex Infrastructure Ltd.
Electro Steels Ltd.
Engineers India Ltd
Power
Variable Energy of Cyclotron Center, Kolkata DAE
TATA PROJECTS LTD.
Nuclear
BARC (Heavy Water Board)
BARC (Nuclear Fuel Complex)
Metallurgy / Structural Work
Steel Plantech Engg. India Pvt.Ltd., - Kolkata
JSW Steel Ltd.
Oil & Gas / Refinery
Haldia Petro-Chemicals Ltd.
Bharat Petroleum Corporation Ltd., Kochi Refinery
BANGLADESH
Berger Paints Bangladesh Ltd.
Elite Paint & Chemical Industries Ltd.
RAK Paints Ltd.
BURMA (Myanmar)
Myanma Petrochemical Enterprise
BELGIUM
DOW Chemical Intl. Ltd.
L.L.C.
SABIC
SAFCO
EGYPT
SIEFCO Adhesives Ltd.
UNITED KINGDOM
ELMIRA
KNOWSLEY SK Ltd.
Portasilo Ltd.
THAILAND
JBSF Polymer Thailand Co.
DUBAI
JBF RAK LLC Polvchem Resins
Polychem resins International Ind.
MALAYSIA
BASF (Malayasia) SDN BND
SINGAPORE
Lanxess Purification Pvt. Ltd.